Program announced, tickets on sale, new title sponsor welcomed

TORONTO, May 7, 2014 – The Canadian Sport Film Festival (CSFF), presented by new title sponsor, Toronto Pearson International Airport, is pleased to announce the program for the 6th annual CSFF, which takes place May 16-18 at TIFF Bell Lightbox.
Highlights include: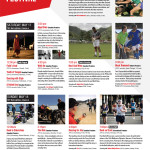 The complete program is available at: http://sportfilmfestival.ca/2014-canadian-sport-film-festival-program/.
Tickets are available for sale at the TIFF box office.